Ya, hi it's me. The long lost lunatic behind this blog. While I have been manically sewing commissioned projects the last few weeks, I have completely neglected all 18 of my followers. WAHOO! I gained one yesterday!!! Oh, yes, I'm sorry I really haven't forgotten about you. I've just been snuggled up real close with my seewing machine. I'm trying to figure out how to remind myself to take pictures of all the things I sew so that I can post about them and hopefully keep you all here, riveted I'm sure.
As a small token of my thanks I'm going to give you a link to an AMAZING blog I love following!
The Idea Room.
She is giving away a Silhouette!
Yes, the nifty gadget we crafters drool over. I'm going to go to bed dreaming of heat transfer now I just know it.
Get on over there, check out her blog, enter the giveaway (she even gives you more than one chance to enter!) and get your craft on!!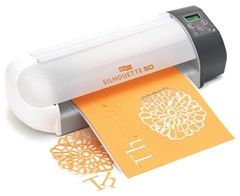 Yup, this is it!! Don't you just love that design!!! Best of all, there are NO cartridges!!! It hooks to your computer! You can use any design, font, etc from your computer and their software! How great is that!!!!! Oh, you're still here? Get over there already. But please come back to me! I promise I will try harder to post more often. ;)